COVID Death Rates Explained, Dismal Booster Stats, and New Vaccines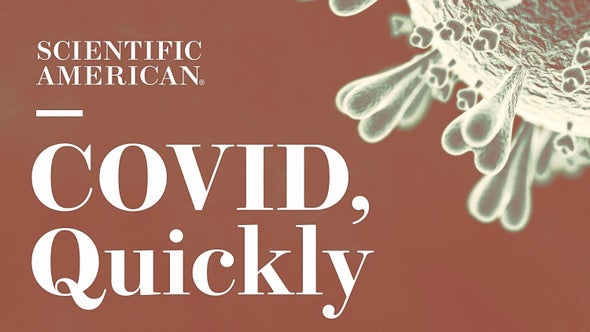 On this episode of the COVID, Quickly podcast, we clear up some data misconceptions, get to the bottom of the booster uptake issue and talk Novavax.
Tanya Lewis: Hi, and welcome to COVID, Quickly, a Scientific American podcast series.
Josh Fischman: This is your fast-track update on the COVID pandemic. We will bring you up-to-date on the science behind the most pressing questions about the virus. We help you understand the science behind the disease and dispel myths about research.
Lewis: I'm Tanya Lewis.
Fischman: I'm Josh Fischman.
Lewis: And we're Scientific American's senior health editors. Today we will discuss how to interpret COVID deaths in vaccinated and non-vaccinated individuals.
Fischman: And we'll discuss why so few people are getting booster shots.
Lewis: Plus, the latest news on new vaccines.
—
Fischman: In the last few months, a fair number of people who died of COVID were vaccinated. However, studies have shown that vaccinations protect people from serious illness. This seems like a contradiction. Are the studies correct?
Lewis: It's a common misconception that, because vaccinated people can get and occasionally die from COVID, the vaccines must not work. You need to understand the context.
Our graphics editor Amanda Montanez and I published a story on this. We used CDC data from a subset of U.S. jurisdictions that have tracked vaccination and booster status and COVID deaths for people 12 and older. In March, among people vaccinated with just the primary series-that is, two shots of Pfizer or Moderna or one shot of J&J–there were 143 deaths. And there were 383 deaths among unvaccinated people.
Fischman: That still seems like a lot of deaths among vaccinated people. What am I missing here?
Lewis: These figures don't take into account the incidence rate–in other words, the number of deaths divided by the total number of people who were vaccinated or unvaccinated. You'll find that people who have been vaccinated are more likely to die from COVID than those who have not been vaccinated. In fact, the unvaccinated had 8 times the death rate of people vaccinated with the primary series only, and 17 times the rate of people who were vaccinated and received at least one booster shot.
Fischman: That seems more in line with what we've been told about the vaccines' effectiveness. Is it not true that vaccines are less effective in older people?
Lewis: Yes. We know that COVID is more common in older Americans. Even though the vaccines are very effective, their effectiveness decreases over time. It is important to get booster shots.
As the virus spreads, more people will die from it. However, if you are vaccinated, your chances of dying from COVID are still very low.
—
Lewis: Booster shots are even more important now, as new Omicron variants such as BA.4 and BA.5 roll across the country. However, not many people are receiving the extra shots. Josh, what does the booster number tell us?
Fischman: The numbers don't look very good, honestly. And that's especially true among people 65 and older, who have been the most vulnerable to the disease. This group was eager to get the first round of vaccines a year ago. 91 percent of them got vaccinated.
But things have changed with boosters. For the first booster shot, just 68 percent of the senior citizen group got them. And second boosters have reached only 30 percent of these people.
Lewis: That's distressing since this is such a high-risk group. Approximately three quarters of all deaths in the U.S. occurred among seniors, right?
Fischman: Yes, and it's frustrating because boosters really reduce their risk. Four months after the first shots, antibodies against the virus fall to lower levels and protection wane. A booster can turn things around. A study of the Pfizer and Moderna vaccines among older people showed that a booster shot reduced the risk of hospitalization by more than 60 percent. The booster lowered the chances of death by between 75 and 79 percent.
Lewis: So that begs the question: why don't older people get these protective extra shots?
Fischman: There seem to be a number of reasons. One reason is that boosters are not being made readily available by officials, as opposed to what they did for the original vaccines.
Remember the government pushed out the first vaccines to nursing homes. FEMA and other federal agencies supported large-scale vaccination clinics all over the country, including in schools, sports stadiums, and other locations. Many of these clinics were located near public transit for easy access. There was also a massive public messaging blitz.
This has not happened with boosters for the third or fourth shots. Eric Topol, director at the Scripps Research Translational Institute said that boosters were not promoted by the CDC for several months. The agency simply stated that people had the option to get them. Topol says the CDC needed to be emphatic, and state people should get shots because they are essential protection. He is very critical of this lapse and believes the messaging was badly crafted.
Lewis: That doesn't sound good. Are there other problems?
Fischman: There were. The same services that are used to give flu shots have been used by nursing homes, but they are less reliable. There aren't many big clinics or big advertising campaigns. Online registration can be confusing and people will need to register for booster shots at pharmacies. Access is more difficult and awareness is lower.
Lewis: Are there ways to get past these obstacles?
Fischman: There are places that have done well with boosters, and they show what works. Minnesota, for instance, has the highest first booster percentage in the country, at 83 percent. Dakota County in the state has done exceptionally well, reports Kaiser Health News. It hired an agency to bring boosters to nursing homes. The county also operated clinics in the afternoon and evening. The county used money from Congress to purchase a mobile vaccination van that could travel to different neighborhoods. These health workers walked through the neighborhoods answering questions about boosters and building awareness.
The county also used federal pandemic money to give fifty-dollar vouchers to people for shots. This helped to cover travel costs for those who couldn't afford to go to a clinic.
Now is the time to make national efforts like these, Topol states. Boosters need a big push, and he told me what the message should say, firmly and strongly: "This shot could save your life."
—
Lewis: There's more vaccine news, too. The Food and Drug Administration's vaccine advisory committee voted nearly unanimously last week to authorize another COVID vaccine, made by the company Novavax.
Fischman: The new vaccine, which uses a more conventional preparation based on proteins from the virus instead of genetic material, joins Moderna's and Pfizer's mRNA vaccines and Johnson & Johnson's adenovirus vaccine. The FDA is currently examining the manufacturing process of Novavax. The shot could be available in the United States in the next few weeks if the FDA is satisfied and follows the recommendations of the committee.
Lewis: In addition, Moderna announced that it has a booster dose that targets the Omicron variant as well the original version. The booster produced a stronger antibody response than the original. However, they did not test whether it protected against disease.
Fischman: The company said it will give this data to the FDA, and hopes the Omicron booster will be ready in early fall if authorized. The agency plans to hold a meeting at June's end to determine which variants should be included with the next boosters. They hope to keep up with the ever-evolving virus.
—
Lewis: Now you're up to speed. We appreciate you joining us. Tulika Bose and Jeff DelViscio edited our show.
Fischman: Come back in two weeks for the next episode of COVID, Quickly! And check out SciAm.com for updated and in-depth COVID news.
[The above text is a transcript of this podcast.]
The author of 5 books, 3 of which are New York Times bestsellers. I've been published in more than 100 newspapers and magazines and am a frequent commentator on NPR.