How to watch Thursday's House Jan. 6 committee public hearing
The House committee investigating the Jan. 6 attack on the U.S. Capitol will be holding what could be the last public hearing as the committee wraps up its investigation into former President Donald Trump and his influence as he refused to acknowledge the results of the 2020 election.
CBS News will broadcast the hearing as a Special Report at 1 p.m. ET.
Thursday's hearing is expected to take a broader look at Trump's mindset during his efforts to overturn the 2020 election, committee aides said Wednesday. This hearing will focus on events that occurred before and after the election, unlike previous hearings which were focused on a specific topic. Each member of the committee will present a portion.
Also in a break from previous hearings, this hearing will not feature any live witnesses. The hearing will include video testimony from witnesses who have been presented to the committee in previous hearings, as well as witnesses who have not yet been publicly seen, committee aides stated.
New information expected to be presented Thursday includes evidence from hundreds of thousands of pages of documents that were turned over by the U.S. Secret Service after a July subpoena from the committee, as well as previously unseen video showing efforts to respond in real-time to the riot at the Capitol as it was unfolding, committee aides said.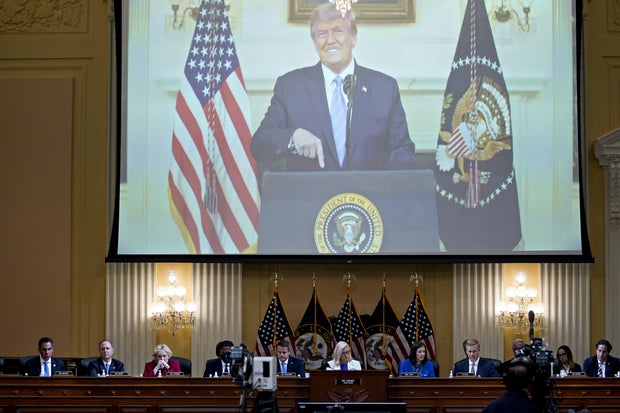 "What you're going to see is a synthesis of some evidence we've already presented with that new, never before seen information to illustrate Donald Trump's centrality in the scheme from the time prior to the election," a committee aide said.

Aides would not say if testimony from former Secret Service official Tony Ornato or agent Bobby Engel, both of whom were identified during the testimony of former White House aide Cassidy Hutchinson, would be featured. Hutchinson testified on June 28 that Ornato told her that Trump had tried to grab the steering wheel of the presidential vehicle from Engel in an effort to get to the Capitol. Trump has denied this claim and has mocked it at rallies ever since. The Secret Service has refuted this claim and said that both men would be willing witnesses, but it is not clear if either has. Ornato resigned from the Secret Service on August.
Committee aides would not say whether they had any further engagement with Trump or former Vice President Mike Pence about testifying. Pence said this summer that he'd "consider" testifying before the committee.
Rep. Bennie Thompson, the committee chair, said last month that the committee plans to put together an interim report in mid-October, with a final report to come before the end of the year, after the midterm elections.
The committee held a series of public hearings over the summer that were also broadcast nationally. The hearings showed never-before-seen video from the attack but also showed video testimony from Trump administration officials about his refusal to accept election results and plans by his allies to replace electors in battleground states that President Joe Biden won while also threatening local and state elections officials.
Thompson confirmed over the summer that the committee has been having "conversations" with the Justice Department about the phony elector plan. In the June 21 public hearing, committee member Rep. Adam Schiff said those fake electors ultimately met on Dec. 14, 2020, in Arizona, Georgia, Michigan, Pennsylvania, New Mexico, Nevada and Wisconsin, signing documents claiming they were duly elected electors from their state.
The committee said that GOP Sen. Ron Johnson of Wisconsin wanted to hand deliver alternate, fraudulent electors to Pence ahead of the joint session of Congress, according to texts the committee provided.
The hearings highlighted Trump and his allies' pressure campaigns on different branches of government to overturn the 2020 election results, including the former president's attempt to install environmental lawyer Jeffrey Clark at the helm of the Justice Department, attorney John Eastman's argument to Pence that he had the power to override the Electoral College, and Rudy Giuliani's attempts to influence local and state elections officials.
The hearings also featured in-person testimony from former Trump administration officials, a former Fox News political editor, a Capitol police officer, a rioter who pleaded guilty, among others.
The hearings included bombshell revelations about Trump's reaction to the Jan. 6 attack.
Hutchinson and other former White House aides testified – both in person and on video testimony – that they knew Trump had lost the election and that pushing the narrative that he had won was a lie. Sarah Matthews, a former deputy press secretary, testified that as violence erupted at the Capitol, the press office was arguing over Trump's response and seemed taken aback that a colleague didn't want to condemn the rioting because doing so would be "handing a win to the media. "
"I couldn't believe that we were arguing over this in the middle of the West Wing .. And so, I motioned up at the TV and said, 'Do you think it looks like we're f'ing winning? Matthews replied, "I don't think it does."
In that same hearing, the committee played a never-before-seen video showing Trump rehearsing to give a statement on Jan. 7, 2021. Despite the chaos of Jan. 6, and the fact that Congress had certified the Electoral College counts, Trump refused to claim he lost the election.
" I would like to start by addressing yesterday's heinous attack, and to those who violated the law, you will be punished," Trump said in the footage. "You don't represent our movement, and you don't represent our country. And if you broke any laws — I can't say that. I already said you will pay…"
"But this election is now over. He continued, "Congress has certified the results," before presumably addressing his aides. "I don't want to declare the election over. "I just want Congress to confirm the results, but not to say the election is over."
How to watch the House Jan. 6 committee hearing
What: House Jan. 6 committee public hearing

Date: Thursday, Oct. 13, 2022

Time: 1 p.m. ET

Location: U.S. Capitol, Washington, D.C.

TV: CBS stations (Find your local station here)

Online stream: Live on CBS News in the player above and on your mobile or streaming device

Follow: Live updates on CBSNews.com