Battle of the Best: MRE Meals vs. Freeze-Dried Food – Which Reigns Supreme?
Are you an avid hiker, camper, or survivalist? If so, you know that packing the right food can make or break your experience in the great outdoors. Two popular options for on-the-go meals are MREs and freeze-dried food. But which one is truly the best? Both have their pros and cons, and it ultimately comes down to personal preference and situation. In this battle of the best, we'll explore the differences between MRE meals and freeze-dried food to help you decide which reigns supreme for your next adventure. Get ready to take a deep dive into the world of outdoor cuisine!
Understanding MRE Meals: Pros and Cons
MRE meals, or Meals Ready to Eat, have been a mainstay in military rations for decades. They are pre-packaged and come with everything you need to eat a full meal on the go. One of the biggest advantages of MREs is their durability – they can last up to five years when stored properly. They also don't require any cooking or heating, making them ideal for emergency situations.
However, MRE meals do have some drawbacks. Many people find that they are high in sodium and preservatives, which can leave them feeling bloated and sluggish after consuming one. Additionally, they tend to be heavy and bulky, making them less than ideal for backpacking trips where weight is a concern.
Overall, while MREs offer convenience and long shelf life benefits, their low nutritional value may not justify consumption as an everyday meal option.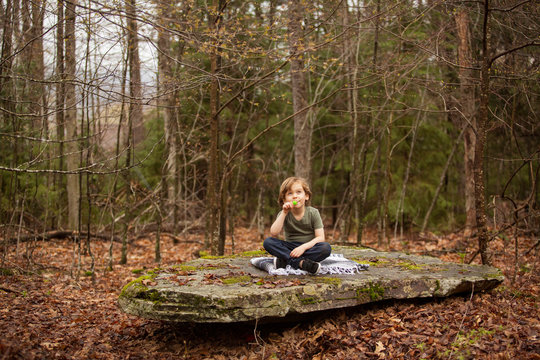 Freeze-Dried Food: The Good, The Bad, and The Ugly
Freeze-Dried Food has become increasingly popular among hikers, campers and preppers looking for a lightweight, shelf-stable option. The good news is that freeze-drying preserves the color, flavor and nutrients of food better than any other method. Freeze-dried food can last up to 25 years if stored properly in dry conditions. However, there are also some bad sides to consider. Because water is removed from the food during the process, freeze-dried options tend to be high in sodium which may not appeal much to those on low-sodium diets. Some consumers also find freeze-dried meals lacking in taste and texture compared to fresh or MRE alternatives.
Finally the ugly truth: Freeze-Drying requires special equipment that can add cost so these meals are often more expensive than MREs at first glance. But considering their longer shelf life and lighter weight (since they don't require water), it might actually save you money in long run especially if you're planning an extended outdoor trip or stocking your emergency supplies with food that won't go bad quickly.
Nutritional Value: Which Option Provides More?
Nutritional value is a vital factor to consider when choosing between MRE meals and freeze-dried food. Both options provide necessary nutrients, but with some differences. MREs often contain more calories and are designed to meet the needs of military personnel who require high levels of energy during extreme activities. However, this may not be suitable for average individuals who need less energy intake.
Freeze-dried food is usually more balanced in its nutritional content, providing a mix of carbohydrates and protein that can help maintain stable blood sugar levels throughout the day. Moreover, it contains fewer preservatives than MREs which typically have longer shelf lives at room temperature.
Ultimately, which option provides more nutritional value depends on personal requirements and preferences. If you're planning an intense physical activity such as hiking or skiing, then MRE meals could be your go-to option due to their high-calorie count. On the other hand, if you want a lightweight meal that provides adequate nutrition without weighing you down too much then freeze-dried food might fit your bill better!
Convenience and Portability: Which Option Wins?
Both MRE meals and freeze-dried food offer convenience and portability, but which one is the better option?
MREs are designed to be eaten on-the-go, so they come with utensils and a heating element. They can also withstand extreme weather conditions and have a longer shelf life. However, they are bulkier than freeze-dried food due to their packaging.
On the other hand, freeze-dried food is incredibly lightweight and compact. You can easily carry several days' worth of meals in your backpack without adding too much weight. All you need is hot water to rehydrate it, making it an excellent choice for outdoor adventures where carrying extra weight isn't ideal.
In terms of convenience and portability, freeze-dried food wins as it takes up less space in your backpack while still providing essential nutrients needed for physical activity that requires substantial energy expenditure.
Cost Comparison: Which Option is More Affordable?
Cost Comparison
When it comes to cost, freeze-dried food tends to be the more affordable option. While MRE meals are designed to provide a complete meal with all necessary components, they also come with a higher price tag. Freeze-dried food, on the other hand, is often sold in bulk and can be purchased at a lower cost per serving. Additionally, freeze-dried food has a longer shelf life than MRE meals, which means less waste and more savings in the long run. However, it's important to note that some freeze-dried food brands may use lower quality ingredients or fillers to keep costs down. It's important to do your research and choose a reputable brand that offers high-quality freeze-dried meals at an affordable price point.
In conclusion, the battle between MRE meals and freeze-dried food is a tough one to call. Both options have their pros and cons, and ultimately, the decision comes down to personal preference and specific needs. MRE meals are great for their convenience and long shelf life, while freeze-dried food offers a wider variety of options and often better nutritional value.
Regardless of which option you choose, it's important to prioritize your nutritional needs and ensure that you're getting the necessary vitamins and minerals to fuel your body. Additionally, it's always a good idea to do your research and read reviews before making a purchase.
If you're interested in learning more about MRE meals or other survival gear, be sure to check out our other content for expert advice and product recommendations. Stay prepared for any situation with the right gear at your disposal!
Questions
Who should choose MRE meals over freeze-dried food?
Those who prioritize convenience and portability.
What makes freeze-dried food a good option for outdoor enthusiasts?
Its light weight and long shelf life make it easy to carry on hikes or camping trips.
How do MRE meals compare in taste to freeze-dried food?
MRE meals tend to have more variety and better taste, but can be heavier and less shelf-stable.
Who may prefer freeze-dried food over MRE meals?
Those interested in long-term food storage or emergency preparedness.
What is the main advantage of MRE meals over freeze-dried food?
They require no additional water or preparation, making them ideal for immediate consumption.
How do freeze-dried food and MRE meals compare in terms of nutritional value?
Both options can provide a balanced and nutritious meal, but it ultimately depends on the specific product.
{"@context":"https://schema.org","@type":"FAQPage","mainEntity":[{"@type": "Question", "name": "Who should choose MRE meals over freeze-dried food?", "acceptedAnswer": {"@type": "Answer", "text": "Those who prioritize convenience and portability."}}, {"@type": "Question", "name": "What makes freeze-dried food a good option for outdoor enthusiasts?", "acceptedAnswer": {"@type": "Answer", "text": "Its light weight and long shelf life make it easy to carry on hikes or camping trips."}}, {"@type": "Question", "name": "How do MRE meals compare in taste to freeze-dried food?", "acceptedAnswer": {"@type": "Answer", "text": "MRE meals tend to have more variety and better taste, but can be heavier and less shelf-stable."}}, {"@type": "Question", "name": "Who may prefer freeze-dried food over MRE meals?", "acceptedAnswer": {"@type": "Answer", "text": "Those interested in long-term food storage or emergency preparedness."}}, {"@type": "Question", "name": "What is the main advantage of MRE meals over freeze-dried food?", "acceptedAnswer": {"@type": "Answer", "text": "They require no additional water or preparation, making them ideal for immediate consumption."}}, {"@type": "Question", "name": "How do freeze-dried food and MRE meals compare in terms of nutritional value?", "acceptedAnswer": {"@type": "Answer", "text": "Both options can provide a balanced and nutritious meal, but it ultimately depends on the specific product."}}]}