It's been one year since global leaders renewed their climate pledges during the landmark summit in Glasgow. Next week, they'll convene again in Sharm El-Sheikh, Egypt, during the 27th United Nations Climate Change Conference of the Parties (COP27) to carry on negotiations aimed at reining in global warming. The world is changing. Leaders will have to confront the current energy crisis triggered by the war in Ukraine , as well as the mounting damage from extreme weather events.
The short-term outlook for the economy is bleak. Energy prices are skyrocketing in Europe and beyond, spurring a new round of government investments aimed at artificially reducing the cost of fossil fuels. By one estimate, such subsidies nearly doubled in 2021 and are poised to jump again this year, which will only increase dependence on the world's dirtiest sources of energy.
But there are also good news. Globally, renewable-energy installations are on the rise. And some 26 countries have made new climate commitments this year (see 'Commitment report'), including Australia, which pledged to curb greenhouse-gas emissions to 43% below 2005 levels by 2030. An International Energy Agency analysis suggests that new policies announced by the United States, Europe and others in response to the energy crisis are poised to spur investments in clean energy, potentially enabling a global plateau in emissions by 2025.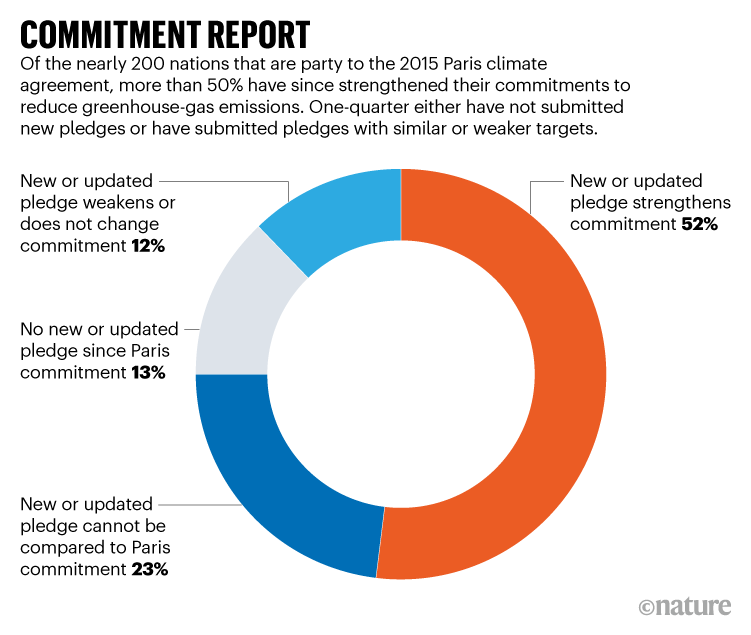 The impacts of climate change are growing. In September, scientists announced that global warming helped to fuel the unusually heavy monsoonal rains that caused extreme flooding in Pakistan this year, killing more than 1,700 people and causing tens of billions of dollars in damage to homes and infrastructure. Sharm El-Sheikh will host arguments about how to pay for such devastation, as well as questions about whether wealthy countries are doing enough in helping poorer countries adapt to global climate change.
"Mitigation and adaptation: those are the two issues" at COP27, says Joyeeta Gupta, a political scientist at the University of Amsterdam.
Loss and damage
Low-income countries have spent more than a decade arguing for damages compensation. They want a loss-and-damage mechanism that allows wealthy countries to help the poorer countries pay for the effects of global warming. These efforts are gaining momentum.
While countries agreed to have a dialogue about the topic in Glasgow, the major negotiating blocs representing low-income countries call for Sharm El Sheikh action. "This is the only area that has been completely ignored in the negotiations," says Tasneem, who is based out of Cape Town, South Africa and is executive director of Climate Action Network International. This coalition of advocacy groups is Tasneem's office. It is now on the political agenda ."
Few people expect a resolution because the United States and other countries with high incomes have opposed writing what they fear will be a blank check to cover all future climate damages. However, it is possible that a new mechanism could exist at the summit to provide financial aid for specific climate-related disasters, according to Danielle Falzon, a sociologe at Rutgers University.
"Establishing a funding mechanism is really crucial, as people are currently bearing the costs of loss and damage," Falzon states. She says that if it doesn't happen this year at the COP, it's only a matter of time because low-income countries have made this their top priority.
Loss or damage is only one part of a larger discussion on how to increase funding for climate adaptation in low income countries. Although wealthy nations had agreed to increase funding for adaptation, they have not met their goals. Falzon states that Sharm El Sheikh has to create better standards for investment tracking to ensure that the money is well spent.
Curbing emissions
More than 150 countries submitted fresh climate pledges last year, and the Glasgow Climate Pact that came out of COP26 requested that countries submit fresh pledges this year. The agreement stipulates that the United Nations will now evaluate these pledges annually. Furthermore, the formal process of assessing progress on climate goals — a 'global stocktake' required every five years under the 2015 Paris agreement — is now under way and will be on the agenda in Sharm El-Sheikh.
In addition to the 26 countries that have already made new commitments this year, several are expected to weigh in during COP27. If countries make good on all these commitments, as well as those put forward in Glasgow, carbon emissions could drop by an extra 5.5 billion tonnes annually by 2030, according to the World Resources Institute (WRI), an environmental think tank based in Washington DC.
This is equivalent to eliminating one year's worth of carbon emissions from the United States, which is the second largest emitter in the world. It is still far from the goals of the Paris Agreement, which calls for global warming to be limited to 1.5-2 degrees Celsius above pre-industrial levels. Climate Action Tracker, a group of academic and scientific organizations, estimates that global warming could be reduced to around 2.1 degrees Celsius if countries keep their promises. The consortium estimates that the world is on track to warm by around 2.7 degrees Celsius without these pledges. Scientists fear this could lead to catastrophic climate impacts.
" We've made some progress, but the pace of our progress is not yet what it should be," says David Waskow who heads the WRI International Climate Initiative.
In Sharm El Sheikh, countries will also be expected to start putting together a new "mitigation work program". It is not clear what it will contain, but it could include specific targets for certain sectors such as electricity and transport.
To make these efforts more useful, Waskow suggests that we need to have a greater focus on accountability. "We can't move on to new promises without ensuring that the existing commitments are being fulfilled ."
For Gupta, a big risk for negotiators at COP27 is getting bogged down in procedures: "I'm afraid we've gotten so lost in the details of these COPs that we've lost sight of the main thing, which is that we have to get rid of fo