Editor's Note (5/25/22): This article is being republished in the wake of a school shooting in Uvalde, Tex. , that killed at least 19 children and two teachers. It was the deadliest such attack since the shooting at Sandy Hook Elementary School in Newtown, Conn., in 2012, and occurred less than two weeks after a deadly shooting in Buffalo, N.Y., that killed 10 Black people in an act of domestic terrorism.
When Illinois passed a law in 2014 permitting the concealed carrying of firearms–becoming the last of the 50 states to do so–Sam Rannochio opened Check Your 6, Inc. in the Chicago suburb of Arlington Heights. The store sells handguns as well as rifles. It also offers concealed-carry classes. Rannochio states that the two go hand-in–hand.
Check Your 6 was one of hundreds of gun dealerships that opened across the United States between 2010 and 2017, notes a preprint study that was published last month on social science research website SSRN and has not yet been peer-reviewed. According to the study, which looked at county-level data nationwide over a 17-year period, when the number of gun dealerships within 100 miles of a given area went up, the number of gun homicides in that area also increased in subsequent years–even as nongun killings declined overall (see graphic). The study found that the majority of violence occurred in Black communities.
The sharp rises in gun violence seen in some Black communities since 2014 have been widely attributed to the "Ferguson effect." This term was coined by the then-chief of the St. Louis police, who claimed violent crime increases were driven by officers' deteriorating morale following nationwide protests of the 2014 police killing of unarmed Black teenager Michael Brown in the St. Louis suburb of Ferguson, Mo. But the study authors propose these increases are linked to a steep rise in gun dealerships specializing in handgun sales near majority-Black communities shortly before 2014.
Before 2010 there had been "a massive decline in gun dealers," says study co-author David Johnson, an economist at the University of Central Missouri. "Three, four years later, you start seeing declines in homicides–and then they pop right back up again once those gun dealers start reentering the market." It is unclear what might have caused the number of dealerships to drop ahead of 2010, but the rebound in gun sales may have been driven by fears that then-President Barack Obama would enact strict gun-control policies, according to a 2015 study published in the Journal of Public Economics.
Gun availability is notoriously difficult because there is no federal registry for firearms. Previous studies have typically relied on gun suicide records, subscriptions to gun magazines, and survey data to estimate how many firearms are available in a given area. The new study's authors argue that these metrics are not accurate.
Instead, the researchers used data on federal firearm licences (which gun dealers must obtain from Bureau of Alcohol, Tobacco, Firearms and Explosives to measure gun availability) as a proxy. To track homicides in every U.S. state, the researchers compared this with FBI data and statistics from the Centers for Disease Control and Prevention. Their analysis found that when a gun dealership opens, homicides within a surrounding area of 100 square miles increase by as much as 3.9 percent in subsequent years.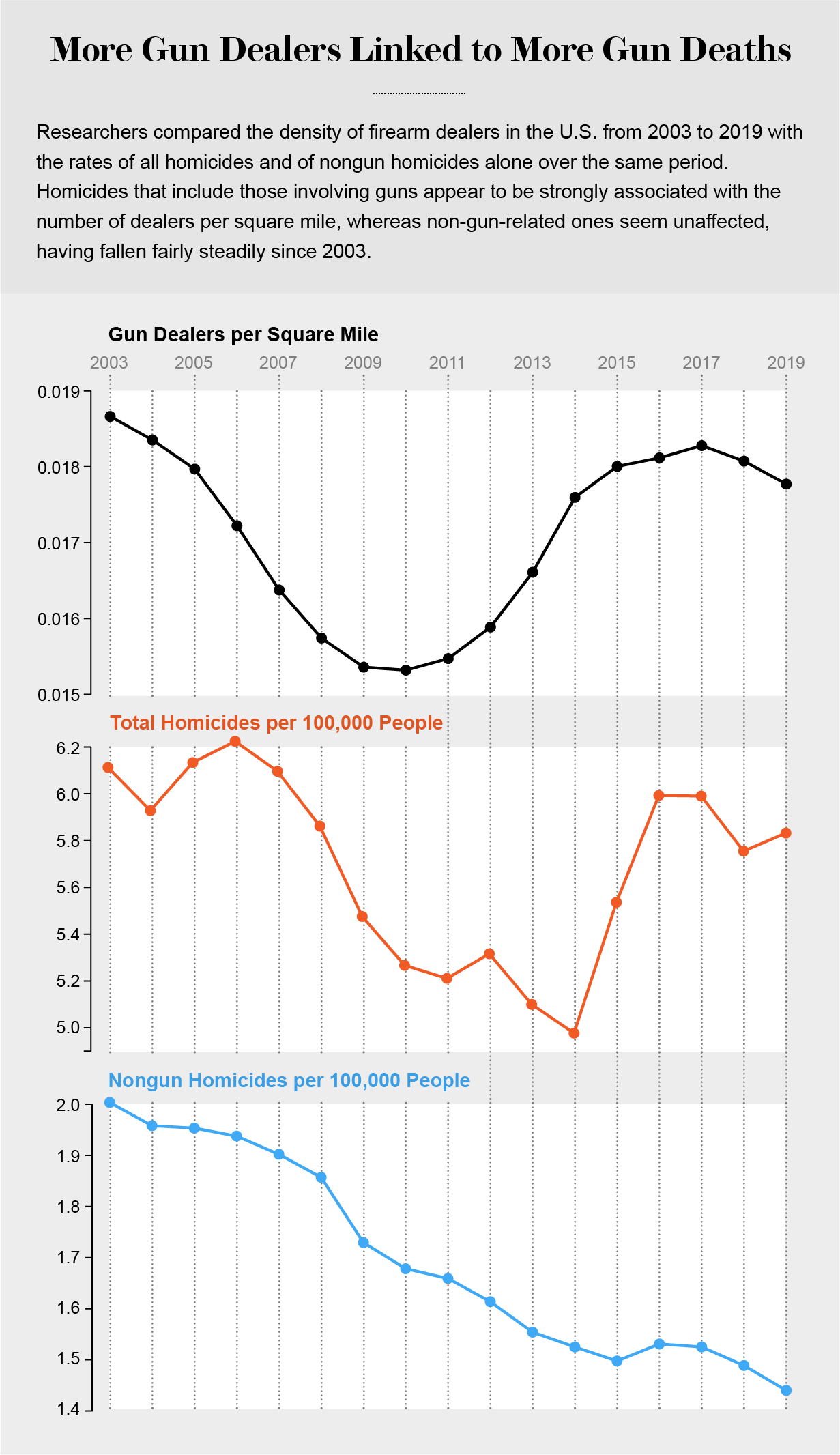 To ensure that they didn't overlook other factors that could have caused increases in gun stores and homicides during the study period, the researchers looked at killings that didn't involve firearms. They found that such "nongun murders" decreased. Johnson states that Johnson believes the gun availability is the main reason for the increase in homicides. "The increase in homicides is happening largely through the increase in gun availability."
Daniel Webster directs the Johns Hopkins Center for Gun Violence Prevention and Policy and was not part of the new study. He says it raises questions about how to regulate gun shops uniformly. He says that there is a lot of variability between gun dealers in terms the rate guns are used in crime. "I don't believe that this is a function of chance. It's a function how people run their businesses." He believes that tighter regulations for gun shops and more oversight of dealers would reduce gun crime.
Illinois has some of the country's strictest gun laws, according to a gun-control advocacy organization called Giffords Law Center, and there are no licensed gun dealers in Chicago. Yet the city remains awash in firearms and is plagued by gun violence. Chicago is less than 100 miles from Wisconsin, Michigan and Indiana (the latter borders the city itself), and all three have far fewer gun restrictions than Illinois.
The SSRN study cited Chicago as a case in point, noting that it is surrounded by Illinois counties with gun dealers. Chicagoans don't have to travel far to legally purchase a firearm. Joshua Robinson, an economist at University of Alabama at Birmingham, co-authored the study. "Gun dealers bring more guns into the community." This increased availability does not only affect law-abiding buyers.
Rannochio, gun shop owner, says that there have been instances when people have come into [to the store] with bad intent. "You're always going to have someone trying to purchase a firearm for someone else, illegally–what they call 'straw purchasing.'" He adds that state-mandated background checks and his own law-enforcement experience help guard against this (he was a police officer for 20 years in Skokie, an affluent, majority-white village that borders Chicago), and he recalled two instances in which he says he declined to sell a gun to prospective buyers. He says that none of the firearms that Check Your 6 has sold or transferred ended up being linked to any crime.
Still, firearms bought (or stolen) from other licensed dealerships in the suburbs and surrounding states frequently turn up in Chicago shootings. In one recent high-profile case, a gun allegedly purchased by an Indiana resident in that state's city of Hammond, which borders Chicago, was used in the fatal shooting of a Chicago police officer. In another, a man in Indianapolis allegedly bought a gun that was used to kill a seven-year-old girl on Chicago's West Side.
"That is why you keep hearing more about straw purchases," said Wallace "Gator", a former enforcer of the Gangster Disciples in Chicago. "Individuals that have a right to go buy a gun will go to the gun stores or go to the gun shows and buy the guns. They will come back," he said. Purchasers don't have to cross state lines to buy guns. "You can go to one of the suburbs and buy a gun."
Bradley, who was pardoned by Illinois' Republican Governor Jim Thompson in 1990 and has been a peace advocate for decades, says he thinks straw purchasers should be charged with murder in shootings that involve guns they distribute. Rannochio says that he believes tougher prosecutions are the best solution. Rannochio states that it is not gun dealers who are causing the problems. "It's the criminals committing crimes with the guns that they're not even supposed to have." In a statement e-mailed to Scientific American, Cook County State's Attorney Kim Foxx, a progressive reformer who has overseen prosecutions in Chicago since 2016, says her office is addressing just that. Foxx's office has prosecuted 5,076 gun cases so far this year, with a conviction rate of 73 percent.
" We need to hold gun shops and gun manufacturer accountable," Kina Collins, a gun violence prevention advocate, says. Kina Collins is primarying Congressman Danny Davis, Illinois' 7th District. This district includes parts of suburban areas where gun dealers are located, as well as some of Chicago's most difficult-hit neighborhoods. Collins says, "And we need communication with other leaders from Midwestern states, as we're seeing illegal guns continually cross our state borders." "Grassroots, we need to make sure we're funding violence-interruption programs, because we know they work."
On Monday, Illinois Governor J.B. Pritzker called gun violence a "public health crisis" and announced the formation of a new statewide office for gun violence prevention. Pritzker vowed to earmark $250 million in state and federal funds to address the issue.
GoodKids MadCity, a Chicago youth organization that advocates for noncarceral solutions to gun violence, argues that communities plagued by violence need less aggressive policing and more government investment to undo years of damage wrought by what it calls racist policies. The group has been advocating a series of proposals known as the Peace Book Ordinance. This would take 2 percent of Chicago's annual police budget of approximately $1.7 billion to pay for services such mental health and substance abuse treatment.
Webster believes such holistic approaches are essential to reducing violence. He says that there are communities where substantial disinvestment exists and that many of the systems (schools, transportation, housing and policing) are failing. People who are Black are more concentrated within these neighborhoods because of policy and structure. This is intentional. It is a function of public policy over generations."
Bradley believes that any solution to gun violence requires cities to unite. He says, "No one, except God, can stop it all." "And you know it like I know it: America is the biggest arms dealer in the world."